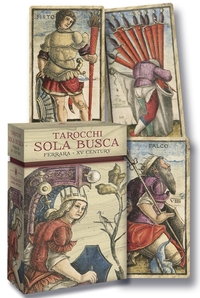 "One of the oldest tarot decks ever created, the Tarot Sola Busca is known for its alchemical symbolism and for having inspired many of the minor arcana of the Rider Waite Smith deck. The first entry in Lo Scarabeo's new Anima Antiqua series (Ancient Soul), this deck has been lovingly printed with great care from originals found in the greatest collections of rare tarot decks. This is a limited-edition, numbered deck printed on the highest quality stock. "
It's FINALLY back again. One of the hardest decks to find, and when found demanding of absolutely ridiculous prices.
There is rumor that there will be a 'Tarot Sola Busca' and a 'Tarocchi Sola Busca' deck. The tarocchi will have brighter colors and be more modern, and the Tarot version that is available now will have more subdued colors and an older look.