Motumbá
I believe it's San Benito in spanish, Sao Bento in portuguese or Saint Benedict in english. The creator of the "Vade retro Satana..."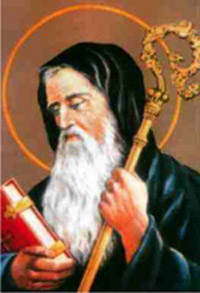 It's not related to black magic, for the contrary, it's a powerful exorist. It's a protection spirit
The thing is that withing sincretism sometimes is equated to certain spirits which might be related to darkness, but never "evil" aqs it is. You have to look in Voodoo or Hoodoo for the relationship Spirit/Saint. For us, macumbeiros of afrobrazilian diaspora, is related to old african spirits, Preto Velhos, which are nothing but good spirits.
Saravá
Idansinají